Henry Beston (1888 - 1968)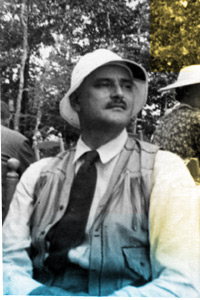 Henry Beston
(1888 - 1968)
Genre: Non-Fiction, Children's Literature, General Fiction
Henry Beston (born 1 June 1888 in Boston as Henry Beston Sheahan), naturalist and writer, received his bachelors (1908) and masters (1911) degrees from Harvard, and an honorary degree from Bowdoin in 1953. He also served with the Harvard Ambulance Service in World War I. He was a journalist and the editor of Living Age in the early 1920s. He and his wife, writer
Elizabeth Coatsworth
, lived on 'Chimney Farm' in Nobleboro, Maine, and in Hingham, Massachusetts. Their daughter,
Kate Barnes
, was Maine's first poet laureate. Bowdoin College has 18 linear feet of
Beston/Coatsworth family papers
in its archives, including letters to magazines and other authors, drafts, reviews, photos, and biographical records. The
Henry Beston website
has biographical and family info, quotes, details of some of Beston's books, an
interview with
Kate Barnes
, more.
Wikipedia
also has a Beston entry. Beston died in Nobleboro on 15 April 1968.
Beston wrote a number of books, including:
A Volunteer Poilu (1916), a World War I narrative
The Firelight Fairy Book (1919; illus. Maurice E. Day)
Fullspeed Ahead: Tales from the Log of a Correspondent with our Navy (1919)
Starlight Wonder Book (1923; illus. Maurice E. Day)
The Book of Gallant Vagabonds (1925), biographical sketches of adventurers
The Sons of Kai: The Story the Indian Told (1926)
The Outermost House: A Year of Life on the Great Beach of Cape Cod (1928); you can see photos of the house, which was swept out to sea in 1978.
Herbs & the Earth (1935; woodcuts by John Howard Benson), reissued in 1990 with an introduction by Roger Swain
American Memory (1937), history
Five bears and Miranda (1939; illus. Frank Dobias)
The Tree That Ran Away (1941; illus. Fritz Eichenberg)
The St. Lawrence (1942; illus. A.Y. Jackson)
Northern Farm: A Chronicle of Maine (1948; illus. Thoreau MacDonald), about 'Chimney Farm,' near Damariscotta Pond, where Beston and Coatsworth lived
Fairy Tales (1952; illus. Fritz Kredel)
Chimney Farm Bedtime Stories (1966)
Especially Maine: The Natural World of Henry Beston (1970)
Beston also edited White Pines and Blue Water: A State of Maine Reader (1950), an anthology of the best in fact and fiction about Maine, from the 17th century to the 1940s. Published in 2000 was Best of Beston: A selection from the natural world of Henry Beston from Cape Cod to the St. Lawrence, edited and introduced by Elizabeth Coatsworth (an update of the 1970 volume, Especially Maine; the natural world of Henry Beston from Cape Cod to the St. Lawrence?)
Composer Ronald Perera wrote a choral work called The Outermost House, on a commission from the Chatham Chorale of Cape Cod; the piece takes as its text excerpts from Beston's The Outermost House.


Last Update: 08/01/2007

(Return to List)